---
An employee spends a major amount of time at the office, and as a business owner, the well-being of your staff is your responsibility. A clean and tidy workplace increases motivation and enhances productivity. In that regard, housekeeping is an area in which you should make sure to invest. Services for housekeeping in Edmond and OKC take floor cleaning, waste disposal, fire hazard removal, building maintenance and storage under their wing.
A visually appealing office improves productivity, and this is one of the most important pillars of keeping employees on their toes. People stuffed in cubicles and seated in front of computers for the entire day might feel down, especially with waste piling around. Therefore, keep in mind that businesses providing housekeeping in Edmond offer services for keeping offices and workplaces neat and dirt-free.
Why Keep an Eye on Housekeeping?
The housekeeping business is not only about cleanliness; rather, it covers a broader idea, including keeping things in order and in the right place, maintaining office storage, and more. Many services fall under the umbrella of housekeeping. Take a look at this list of what housekeeping in OKC can do for your office and the benefits they provide with their services:
Ample and better usage of space.
Less clutter and spilling, reducing chances of slipping and tripping.
Reduced chances of dangerous and hazardous material exposure.
Minimal likelihood of property damage.
Preventive measures along with daily maintenance of equipment and tools.
Above all, a hygienic and well-maintained workplace.
The Objective of Housekeeping in the Workplace
An unorganized and dirty workplace can cause different issues and acts as an obstacle in the normal work flow. Important materials can go missing if spaces are messy. Things can be scattered here and there on the floor, stairs or on various surfaces. People can get hit by falling objects, and accidents can occur due to a slippery floor. All these incidents are completely undesired at the workplace and disruptive to the work culture. To keep all these occurrences away, businesses offering housekeeping in Edmond provide round-the-clock services for their customers.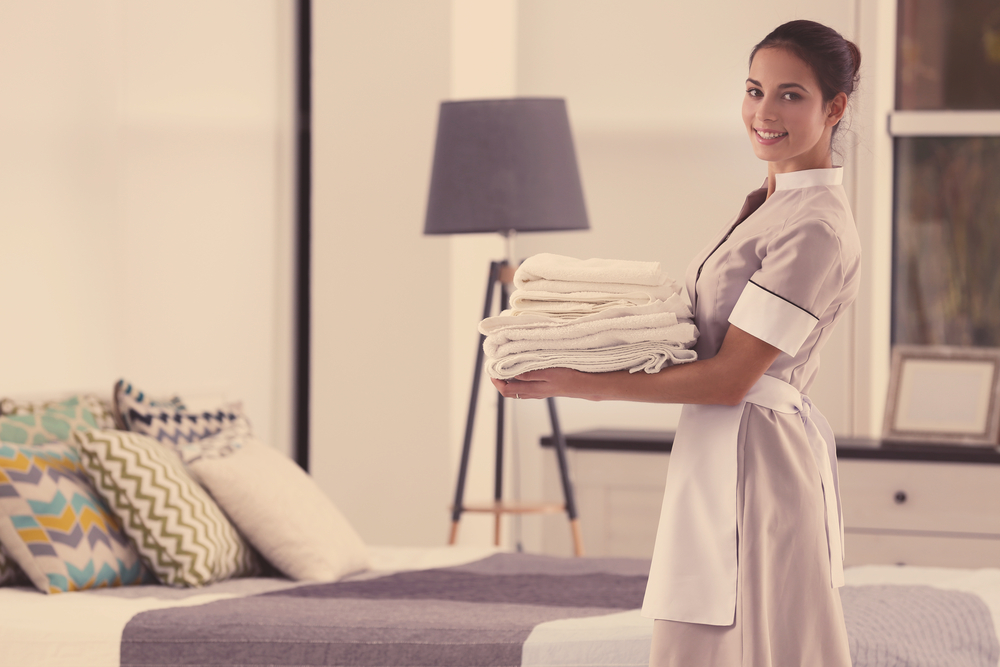 Top Tips for Housekeeping
In addition to hiring a housekeeping service, do not forget these tips from professionals in housekeeping in OKC and Edmond that will help improve the overall impact of cleaning.
Do not leave trash, garbage or anything else scattered on the floor. Keep everything in the right place and, when necessary, toss it in the recycling or garbage bin. If clutter is not cleaned up on time, debris and germs can accumulate and cause serious health issues.
Clean up all leaks and spills on the floor to avoid accidental falls and injuries in the workplace.
Dispose of all unwanted boxes, containers or other materials from stairs, hallways and sidewalks, and do not let them block doorways or emergency exits.
Keep all flammable materials in the appropriate place and store them carefully. Do not forget to keep enough fire extinguishers throughout the office.
Make sure all machines and equipment remain clean and functioning.
Keep storage spaces clean and do not let dust, dirt and grime accumulate there.
In addition this, the employers or employees should maintain:
A regular waste disposal routine.
Cleaning tasks during shift gaps.
The removal of improperly placed and unused materials from the floor to keep it tidy.
Housekeeping for offices is more than just a one-time activity; rather, it includes regular monitoring and follow-up. With persistence and dedication, businesses offering housekeeping in OKC and Edmond do their job well, taking all necessary measures to keep places neat and clean.
---
---